Vessel Optimisation Webinar Week

12 May 2020 - 15 May 2020

09:00 - 09:45

ONLINE
---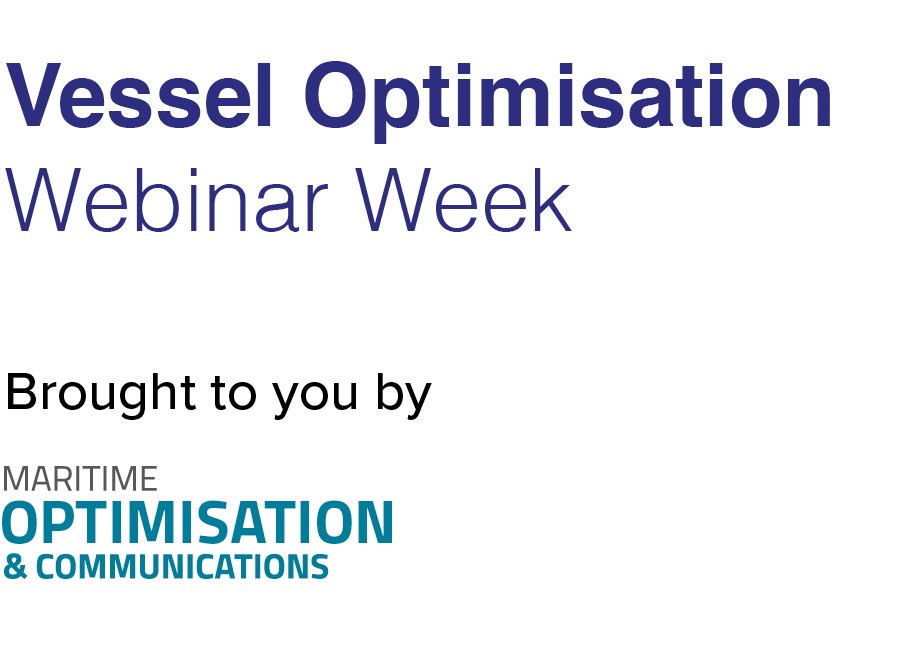 ---
Be sure to join us for Vessel Optimisation Webinar Week
Beginning 12 May we will be holding a series of daily webinars, each meticulously researched and organised in response to a present vessel optimisation challenge, headache or opportunity. The webinars are free to attend and are designed to strike the right balance between transmission of key information and interaction with the expert panel assembled.
Should you wish to join one of our expert panels please contact Paul Skinner.
Please join us for any or all of the following:


Our discussions are focused, cover the advertised subjects, and deliver registrants actionable insights.
Digitalisation and data standardisation: time for the maritime industry to act

Date: Tuesday 12 May - Time: 09:00-09:45BST

OEMs, operators and asset owners recognise it's in their best interest to share certain data. It's time to lower the hurdles to sharing data and time to realise the benefits – just as other industries have done. Hear how our panellists have overcome barriers, learnt lessons through collaboration and are benefitting from digitalisation and data standardisation in ship operation.


Join us and learn
What works, what doesn't work
What is delivering benefits and what isn't
Simplifying complicated and uncoordinated views of equipment
Getting to payback
Panellists include:
Nick Chubb, Founder, Thetius
Henning Schleyerbach, Chief Operating Officer, Digital Container Shipping Association
Martin Helweg, Chief Executive Officer, P&O Maritime Logistics


---
Digital Twins: How digital twins drive vessel efficiency and voyage performance

Date: Wednesday 13 May - Time: 09:00-09:45BST
Digital twins are dynamic digital replicas of machinery, systems and assets that can help to solve operational challenges, predict faults and reduce downtime. Using proven examples, our panel detail how digital modelling can significantly improve vessel efficiency and voyage performance.


Join us and learn
The pairing of virtual and physical worlds: Digital Twins explained
Digital Twins for planning, training and real-time voyage scenarios
Sufficient data means the right sensor technology, in the right places
Industry experience: maritime, offshore and renewable case studies
Lessons learned from joint industry research project INTENS
Further thoughts on: connectivity, industry standards; data management and security
Panellists include:
Gaute Storhaug, Principal Specialist, DNV GL
Dennis Mol, Vice President, Digital and Business Transformation, MacGregor
Teemu Turunen-Saaresti, Associate Professor, Lappeenranta University of Technology

---
How to develop and implement a digital performance strategy to optimise vessel performance

Date: Thursday 14 May - Time: 09:00-9:45BST
This webinar explains how to identify the right digital strategy for your fleet and balance its implementation with commercial, operational and environmental considerations.


Join us and learn
Where to find quick wins: which data is immediately relevant
What data can be put to one side for in-depth analysis at a later date
How to develop a long-term strategy of improvements for your fleet
Performance analysis and monitoring for large fleets
Using data for cross-analysis of different vessel types within the fleet to improve overall efficiency
Panellists include:
Mare Straetmans, Director Digital Transformation, Van Oord
Leonardo Zangrando, Founder & Managing Director, Startup Wharf
Arnstein Eknes, Business/Segment Director - Special Ships, DNV GL
Erik van Ballegooijen, Director R&D, VAF Instruments


Sponsored by:


Voyage planning for maximum vessel efficiency

Date:Thursday 14 May -Time: 14:00-14:45BST
How to use voyage planning to achieve savings on fuel and time while meeting environmental requirements. The webinar will look at the use of voyage planning software, weather routing and navigation aids to help owners execute their voyages in the most efficient way to ensure maximum return on investment.
Join us and learn
Pre-planning: passage plans, best practice
Voyage optimisation: use of software, weather routing, navigation aids and setting up a template for best practice
En route monitoring: speed, cargo, fuel management, maintenance and port delays
Post-voyage analysis and use of collected data for future voyages
Panellists include:
Patrick Toll, Managing Director, PT-Shipmanagement
Dr. Teemu Manderbacka, Senior Research Engineer, NAPA Shipping Solutions
Raoul de Troije, Technical Director, Van Weelde Shipping Group, Rotterdam
Ulla Knudsen, VP Sales, Coach Solutions


Sponsored by:
Understanding vessel lay up options in the age of COVID-19

Date: Friday 15 May - Time: 09:00-09:45BST

COVID-19 has its tentacles around global trade and the shipping industry is suffering as a result. Shipowners are suddenly facing the need to layup vessels and this has brought multiple, urgent issues. What are the best options for vessel in remote locations? How long should the vessel enter into lay up? How best can inspections and surveys be carried out? Our panel will deliver guidance on these and associated questions and will answer your questions too.


Join us and learn
Hot, warm or cold lay-up? The challenges faced at this time
The decisions needed from the outset: what needs to be done before and after the crisis
Audits, inspections and lay-up surveys: the measures and practices class, flag states and other authorities can put in place to support shipowners
Key considerations in creating an effective lay-up maintenance schedule
Critical points in bringing a vessel out of lay-up
Panellists include:
Thomas Klenum, Sr. Vice President, Maritime Operations, LISCR

Carri Woodburn, Head Of Loss Prevention - London, Shipowners' P&I Club
Tony Field, Vice President Middle East & Africa, Marine & Offshore, Lloyd's Register
Per Bjornsen, Managing Director, V.Ships Leisure
Paul Skinner - Project Lead
paul.skinner@rivieramm.com

Add to Calendar
Webinar details:
A confirmation email will be sent after registration. A reminder will be sent with your access details no later than 72 hours before the events date and a further reminder will be sent 1 hour before the webinar is due to begin.
During the webinar the identity of the attendees is confidential

All attendees join the webinar with their microphone off

We encourage questions to be sent during the webinar, the Moderator will raise these to the expert presenters

A recording of the Webinar will be accessible at www.rivieramm.com/webinar-library following the live event taking place.