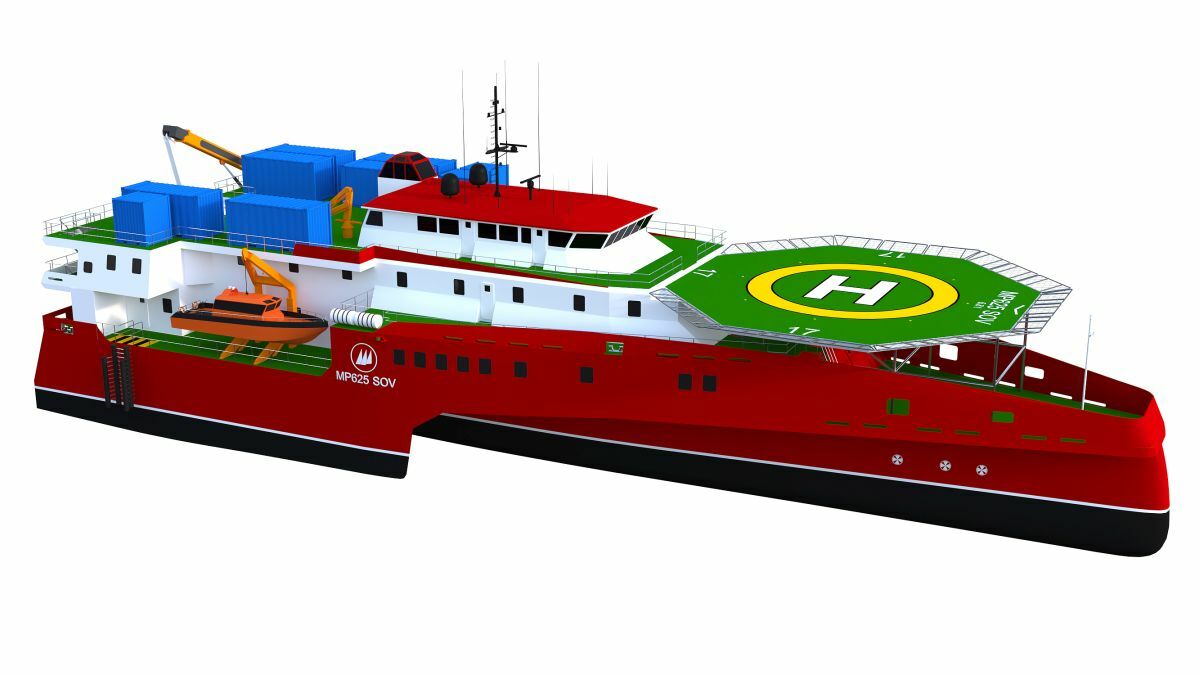 Trimarans take on the offshore market
Marcelo Penna Engineering's latest model, the MP625 SOV, presents an alternative to the current SOV market for both the oil and gas and offshore windfarm sectors
After over 18 months of tank testing, sea-keeping calculations and CFD runs, the MP625 SOV has been designed including a helideck and alternative crew transfer systems such as lift to work, walk to work or an Uptime lift to be decided by the ship operator. In this model, the vessel can accommodate 30 technicians in single cabins plus 14 crew members. In order to ease daily operations, an optional daughter craft has been included which will help technicians reach their final destination without constantly moving the mother ship for disembarking.
Thanks to its tri-hull design, at 63 m in length the vessel offers a warehouse and workshop area of 300 m2 plus the possibility of carrying up to eight 20 ft and two 10 ft containers. A foldable crane is included on the working deck to distribute the cargo as required.
This model provides a 30-day autonomy with a cruising speed of 21 knots, which is unbeaten in the current market. If needed, the top speed is 24 knots for fast interventions.
The major benefit of this design for future operators is an enlarged operational window in harsh weather areas where current vessels are unable to operate due to excessive rough weather. The MP625 SOV has a 365-day workability in unrestricted navigational areas. It is important to note that, thanks to its hull shape, Marcelo Penna Engineering has managed to develop a gyroscope and stabiliser-free vessel. This results in more available space, reduced maintenance and overall building costs, with minimum levels of noise and vibration.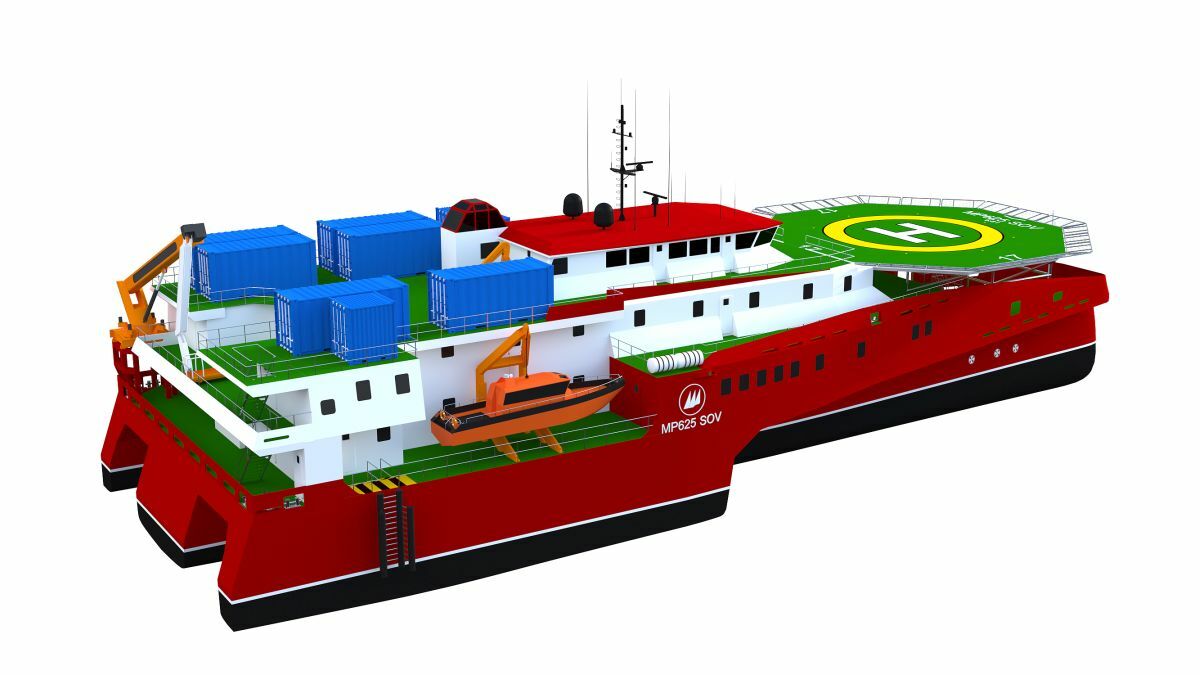 The MP625 SOV has been specifically designed to operate in challenging weather conditions. Starting from the bow, its shape allows for earlier wave breaking, reducing pitch and slamming and consequently increasing comfort. The trimaran effect will help its side hulls navigate undisturbed waters, which will reduce the resistance and therefore, consumption. In addition, the slender central hull and slim side hulls aid reduced resistance in smooth sailing conditions while providing stability and motion damping in rough weather.The SOV has a reduced draft, approximately 1.5 m less than the standard in the industry, allowing for operation in smaller harbours.
Marcelo Penna Engineering's design can remain in the same position with 4 m Hs including during mechanical propulsion failures. The vessel is DP2 and can withstand up to 100 knots in the aft or in the bow contributing to safer station keeping for long working periods on windfarms or oil and gas platforms, which will further increase the operational window.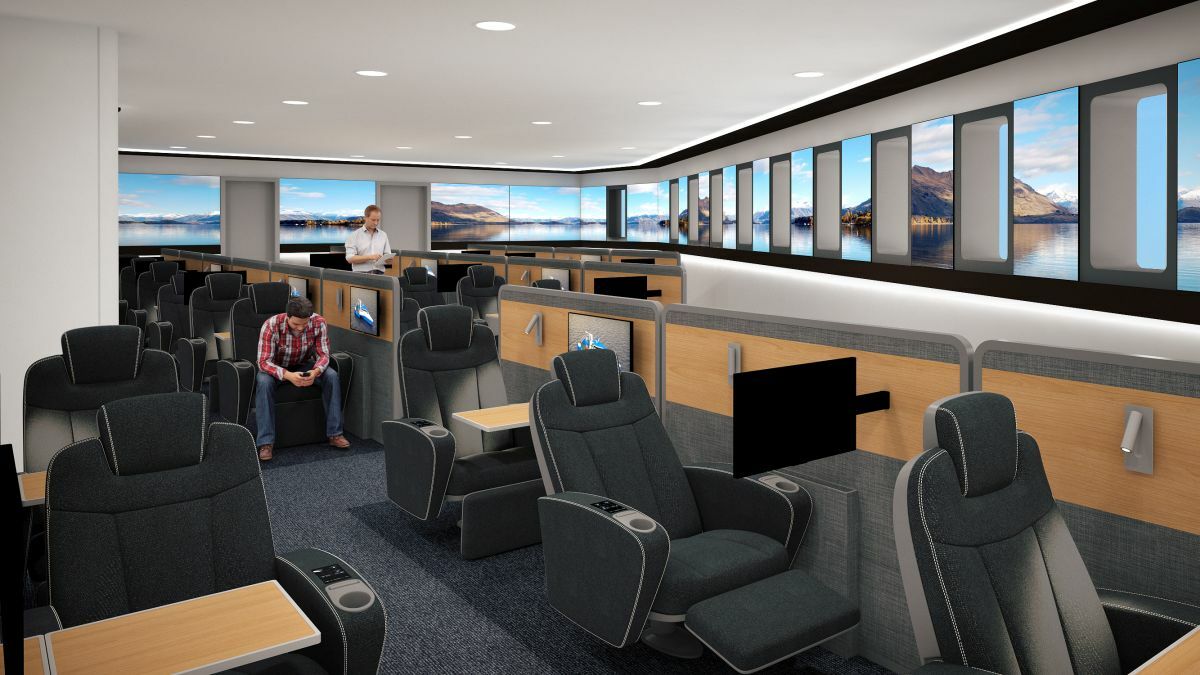 In relation to comfort standards, as previously discussed, our trimaran design provides maximum comfort and reduced motion sickness across all decks allowing both technicians and crew members to maintain daily activities during working hours and free time. The vessel includes a media room, gym, hospital and leisure area. The MP625 will allow you to operate in extreme weather conditions while comfortably watching a film in your free time.
In terms of cost, although complex, the design of the trimaran has been carefully considered to reduce the cost of construction. Building costs are anticipated to be considerably less than the current SOV market. Depending on the final configuration and shipyard, this model might be built for half the current price of a mono hull SOV with the same characteristics, including in the United States under the Jones Act. This will result in reduced operational daily fees for major companies and lower maintenance costs for operators.
Marcelo Penna Engineering is constantly researching the most efficient and sustainable propulsion technologies available on the market. This model has been developed using IMO Tier III/EPA Tier IV engines matching the latest requirements. Nevertheless, in order to move towards a future zero-carbon footprint, it could easily be adapted to a hybrid propulsion system combining a diesel-electric mode.
Last but not least, the huge availability of space allows for a high level of customisation, making this vessel adaptable to every need that a major company or operator can imagine.