Maritime Air Pollution Conference, Europe 2021

05 October 2021 - 06 October 2021

09:00 - 18:00
---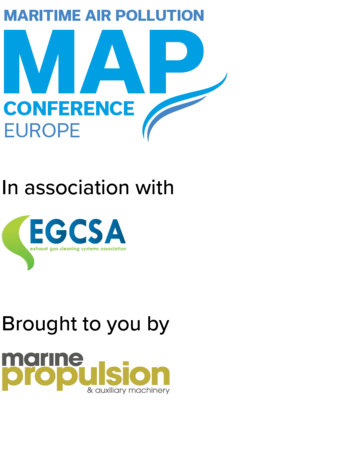 ---
RouteMAP for maritime industry GHG emissions and air pollution reduction

Riviera's two-day Maritime Air Pollution Conference Europe returns Tuesday 5 October - Wednesday 6 October as a live event. Professionals from across the maritime world will convene to discuss the business, operational and technical issues guiding a rapidly decarbonising maritime industry.
Why attend this conference
Case studies on reducing maritime air pollution and incentivising change
Regulation, finance and energy economics updates
Exhaust gas emissions treatment systems (scrubbers) and the path to zero emissions
The role of ports in decarbonising the maritime industry
Engine options: cost, compliance, technology and operations
The main energy conversion options for ships' propulsion in the next 30 years
Fuels that will deliver the industry's decarbonisation ambitions
Retrofits: balancing compliance, efficiency and economics
Time and space to contribute to the discussion and to build your professional network
Exclusive updates from shipowners, analysts, industry bodies and solutions providers
Access to premium networking opportunities
Access to a dedicated trade exhibition
There are plenty of opportunities to meet, renew and make new industry contacts. Our exhibition is the ideal forum to market products and services to the industry's decision makers.
Join our dinner and awards where we take stock and recognise the sector's accomplishments against the backdrop of one of the most challenging periods for the industry.


Testimonials
Here's why your colleagues in the industry regard Riviera's two-day Maritime Air Pollution Conference Europe as a must attend event.
"An excellent marine industry conference with good coverage of pertinent topics and gathering of key stake holders"
Infinium, Singapore

"Lots of information obtained from OEMs"
Gulf Oil Marine

"Well organised and valuable information"
Rickmans Shipmanagement Singapore

"Good presence of shipowners, ship managers and associated industry stakeholders sharing concerns of trends, regulations, challenges, new solutions etc."
Chevron Marine

"Very worthwhile time away from desk. A better informed manager on return to my desk"
MOL LNG

"An informative well managed conference covering topical and well-presented subjects"
Global Ship Lease

"Excellent! Very informative and well organised"
Transocean

"Ideal opportunity for business...and learning the market's concerns, thoughts and trends"
Anglo Eastern UK

"An excellent orientation to the propulsion concerns of the maritime world"
Maritime Training Institute

Tom Kenny - Brand Manager
tom.kenny@rivieramm.com

Add to Calendar
Exhibition
Exhibition

Your exhibitor package includes the following:
3 x 2m stand space
Table and chairs
Access to electricity
Entry on the delegate handbook printed floorplan
1 x free delegate for each day you are exhibiting
Free upload of technical white paper on Riviera's Maritime Knowledge Bank
A minimum of 3 networking sessions in the exhibition area
If you are interested in exhibiting at the conference, please contact:
Tom Kenny, Brand Manager on tom.kenny@rivieramm.com or call +44 20 8370 7791.
2021 Exhibitors to date:

Chelsea Technologies
Danfoss IXA
Europiren
OPSIS
CR Ocean Engineering
Sverdrup Steel