Fate of the idle fleet will shape OSV market's recovery
Lower oil prices, an overhang of laid-up vessels and continued ordering of newbuildings are conspiring against concerted improvement, says Maritime Strategies International senior offshore analyst Dr Ferenc Pasztor
The OSV market is moving into recovery phase, with many vessels now seeing day rates move above operating costs. However, the huge number of idle vessels continues to exert downward pressure on the market.
It is what will happen to this surplus of OSVs which will ultimately shape the dynamics of the offshore market recovery. There seems to be no magic pill to solve the overcapacity issue (like the US fishing industry buying and converting OSVs in the second half of the 1980s).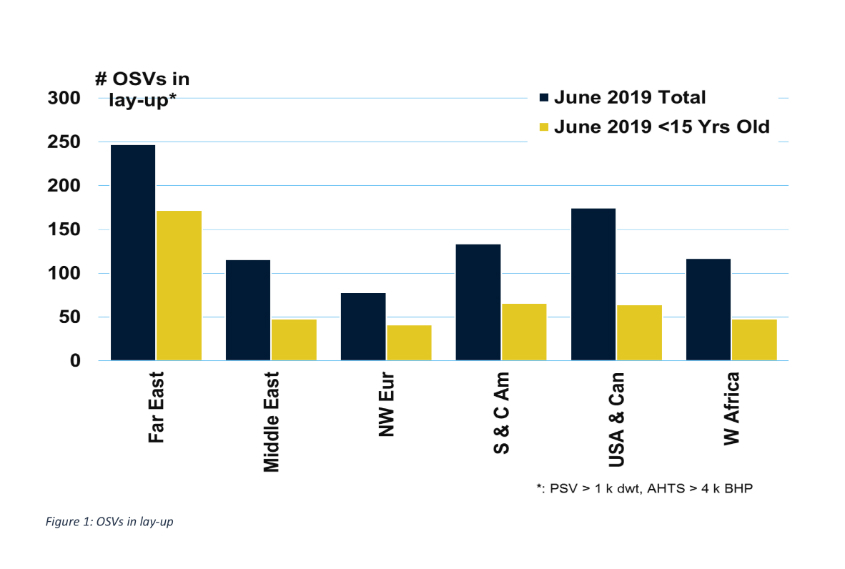 The number of laid-up OSVs is a good indicator of how much demand would need to increase to consume the oversupply and get back to a healthy, balanced market.
MSI has looked at what would happen to vessel demand in a fairly high oil price environment (US$80-85 bbl) by 2023. The surplus/deficit of vessels is expected to vary significantly between regions.
A large fleet mobilisation activity can hence be expected. The small deficit of 20 vessels globally would mean the problem of oversupply would have been solved in the 5-year period under scrutiny.
However, we think a sub-US$80 bbl oil price environment is clearly probable in the mid-term, which would mean a significantly lower demand growth.
In case of an oil price decreasing to a US$50-55 bbl level by 2023, a surplus of about 200 OSVs would remain.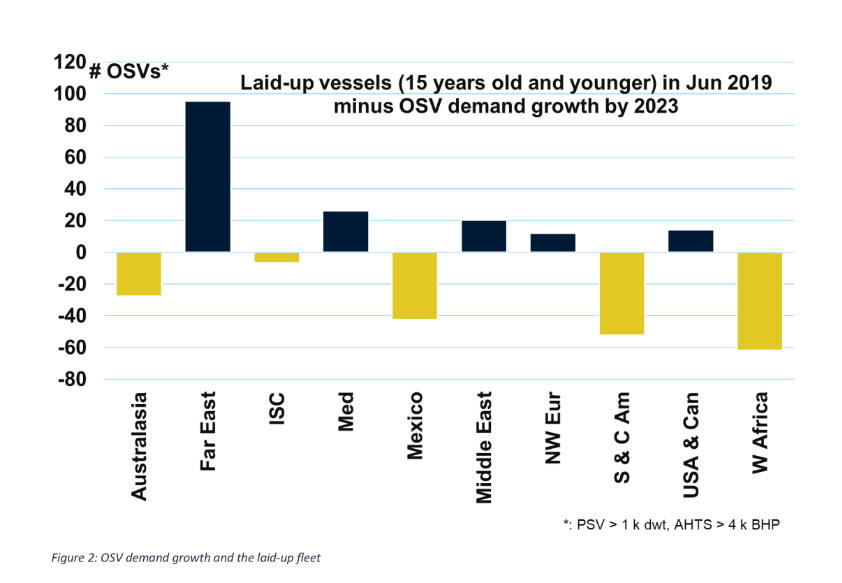 As another significant threat to recovery, the laid-up fleet of more than 600 OSVs older than 15 years is still there and poses a threat to a meaningful recovery, despite the growing trend of E&P companies not to charter older OSVs.
The large orderbook of OSVs with vessels that have been mostly launched and are expected to enter the market at some point is another issue. Asia looks particularly bad in this regard, where this issue is compounded by the high number of vessels laid up in the region.
Draining the oversupply will be even more difficult if China continues ordering newbuildings. The substantial difference between where OSVs are deployed and where they will be needed may indicate interesting times ahead, especially with growing local content/cabotage requirements around the world.
---
UK-based Maritime Strategies International (MSI) is an independent consultancy that supports clients with high level, independent market forecasting and business advisory services for shipping, offshore and allied industries.
Dr Pasztor is responsible for analysing the offshore oil and gas industry and the related vessel markets and has been developing MSI's offshore support vessel and drilling rig market forecast models. He is involved in bespoke research and consultancy projects and provides valuations for specialised offshore vessels.