Become an Exhibitor and enjoy the benefits
Showcase Products and Services
Organise and Manage your Meetings
Register a member of your team (inclusive)
Network, Build Contact Lists and Generate Leads
Analyse your team's performance
Customise your Stand
Brand your Space
Showcase with Product Video
Run Live Demonstrations
Engage via Live Chat or Video
Load Documents for download
Arrange your virtual meetings using the in-built AI Powered Matchmaking and display your products
Explore Recommendations
See Who's Online with Matching Interests
Use Advanced Filters to Find Contacts
Invite Matches to Chat or Meet
Improve Lead Generation
Build Quality Lists to Takeaway
Network and Engage
Focus your Networking with Matchmaking
Respond to Live Chat Enquiries
Arrange Video Meetings
Send Meeting Reminders
Extend your Reach with Riviera's Global Audience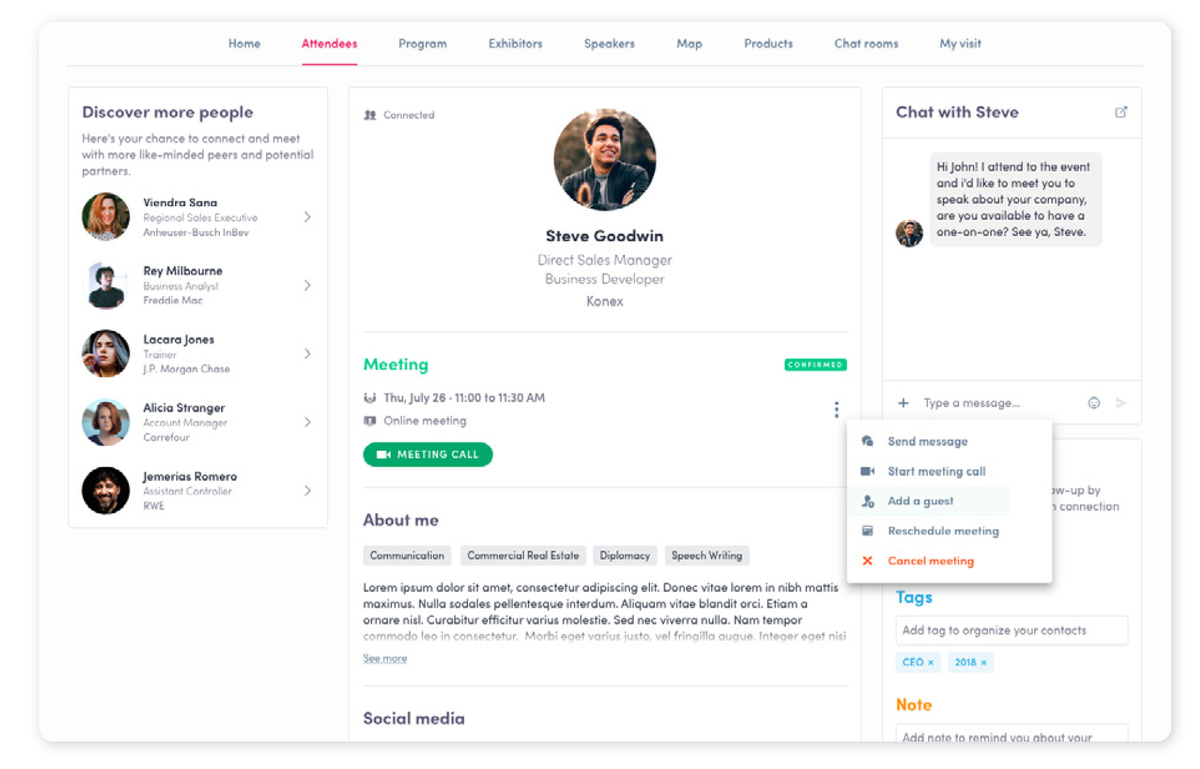 Benefit from enhanced analytics
(New dashboard coming in 2021)
Exhibitor Analytics Dashboard
Lead Scoring
Lead Source Tracking
Tagging Product and Services
Live Data on Prospects
Lead Generation +++
Before: the platform will be open one week before the conference for attendees to review the attendee list, send meeting invitations and plan their schedule.
During: the programme schedule includes networking breaks and time to explore exhibitor profiles, send enquiries via live chat or take video meetings all in real time
After: content is accessible for up to 30 days after the conference ends extending lead generation opportunities. Riviera's website at www.rivieramm.com will showcase news items and conference highlights post event further strengthening its lifecycle and opportunities for further engagement via SEO
For further information and to familiarise yourself with the virtual platform prior to the event taking place please watch some of the videos the platform provider has uploaded to You Tube.
Video Library
The Swapcard Experience:
Swapcard explained in 90 seconds: